Grüezi und herzlich willkommen

Die neuen CD's sind da. Hier geht's mit dem Link zu den Hörproben
CD's / DEMOSONGS
E R I C A A R N O L D


The - One - Woman - Power - Frau - Band
Selbständigerwerbende Musikerin ohne Einkommen
TWINT 079 771 66 65
oder Erica Arnold, 5737 Menziken IBAN: CH12 0900 0000 1545 5197 0
Postkonto 15-455197-0 Postfinance AG, Mingerstr. 20, 3030 Bern
Ich poste jeden Tag Songs
Vielleicht schaffe ich es auf diesem Weg durch die Corona Krise
Songs geniessen - lass 1 Franken fliessen
WEIL JEDER FRANKEN ZÄHLT
Viel Vergnügen
23 29.03.2020 PROUD MARY MEDLEY https://youtu.be/kUPwy_jEJ7M
22 28.03.2020 GIVE A LITTLE BIT https://youtu.be/Uy9mDy6ELZQ
21 27.03.2020 DER WIND BRINGT DIR MEIN LIED https://youtu.be/zkEJcQinkhg KURZVERSION mit ALOIS RENGGLI am Akkordeon
20 27.03.2020 DER WIND BRINGT DIR MEIN LIED https://youtu.be/l3z0QFboF_s Mit ALOIS RENGGLI am Akkordeon
19 26.03.2020 THE WIND BENEATH MY WINGS https://youtu.be/f4x--rkqS5o
19 25.03.2020 RADYS MEDLEY POLAISONE https://youtu.be/NdSB1CJi6BY Für Markus Zemp von den Radys zu seinem Geburtstag
18 24.03.2020 TWO BLACK CADILLACS https://youtu.be/5OPdO0xKGno Gesungen von MICHAELA FREI Duo Kiss Menziken
17 23.03.2020 IT'S A HEARTACHE https://youtu.be/10po4IUQOKI
16 23.03.2020 ONE LIFE ONE SOUL unplugged https://youtu.be/L4aytWIIlEM
15 23.03.2020 ME AND BOBBY McGEE unpl. https://youtu.be/SH_XGXYCaUk
14 22.03.2020 LIED FÜR MAMA https://youtu.be/JwSmdBNayJM
13 21.03.2020 SCHNEEWIISSI CHRÄIE https://youtu.be/GvyqpE55cBI
12 21.03.2020 BACK HOME AGAIN unplugged https://youtu.be/jnlfTn4LxnQ Mit Alois Renggli am Akkordeon
11 21.03.2020 MUSTANG SALLY https://youtu.be/UumDGN84v5s
10 20.03.2020 BRUNO's SONG https://youtu.be/a4ReTIjJ-kc
09 19.03.2020 WAGON WHEEL https://youtu.be/v_TpvG2twKA
08 19.03.2020 LADY IN BLACK https://youtu.be/pM2tLQ86L5M
07 19.03.2020 JOLENE unplugged https://youtu.be/qyZ0Xck0P2A
06 19.03.2020 SCHARLACHROT unplugged https://youtu.be/kUGvWMob4Lw
05 18.03.2020 TRACY CHAMPMAN MEDLEY https://youtu.be/WdbCk1H2fFI
04 18.03.2020 THIS IS THE LIFE https://youtu.be/VqGd8b_CVqU
03 18.03.2020 MERCEDES BENZ unplugged https://youtu.be/PszeGTaFMUA
02 18.03.2020 COUNTRY ROADS unplugged https://youtu.be/0SNQOWoImCc
01 17.03.2020 MERCEDES BENZ https://youtu.be/79z2PRv9g2o
00 16.03.2020 MIT ERICA IM BETT https://youtu.be/zzDtBHYmEj0
Lust auf eine "rüüdige Party"?
Erica Arnold, die ehemalige Lastwagenfahrerin, welche in den 90-er Jahren als erste Schweizerin mit ihrem 40-Tonnen Truck Marokko gefahren ist, schmettert einen Hit nach dem anderen und begeistert ihr Publikum mit mitreissenden Songs querbeet duch die ganze Welt. Mit ihrer markanten "Janis Joplin Stimme", Gitarre dem unglaublich grossen und breiten Repertoire aus den Sparten Rock, Pop, Country, Oldies, Folk, Blues, Evergreens, Schwiizer-Hits, Volkstümlich gibt sie Vollgas bis es niemanden mehr auf den Stühlen hält.
Jeder Songs ein Hit zum mitsingen.
Also, bucht euch euer Datum frühzeitig und dann.... let's have a Party!
Die Doppel CD Mister Rock'n Roll ist da !
Brandneu seit Mitte Januar 2020 erhältlich mit 32 Songs
Hörproben anhören unter CD's / DEMOSONGS
Die CD Schneewiissi Chräie ond rabeschwarze Schnee ist endlich auf dem Markt!
Brandneu seit Mitte Januar 2020 erhältlich mit 24 Songs
Hörproben anhören unter CD's / DEMOSONGS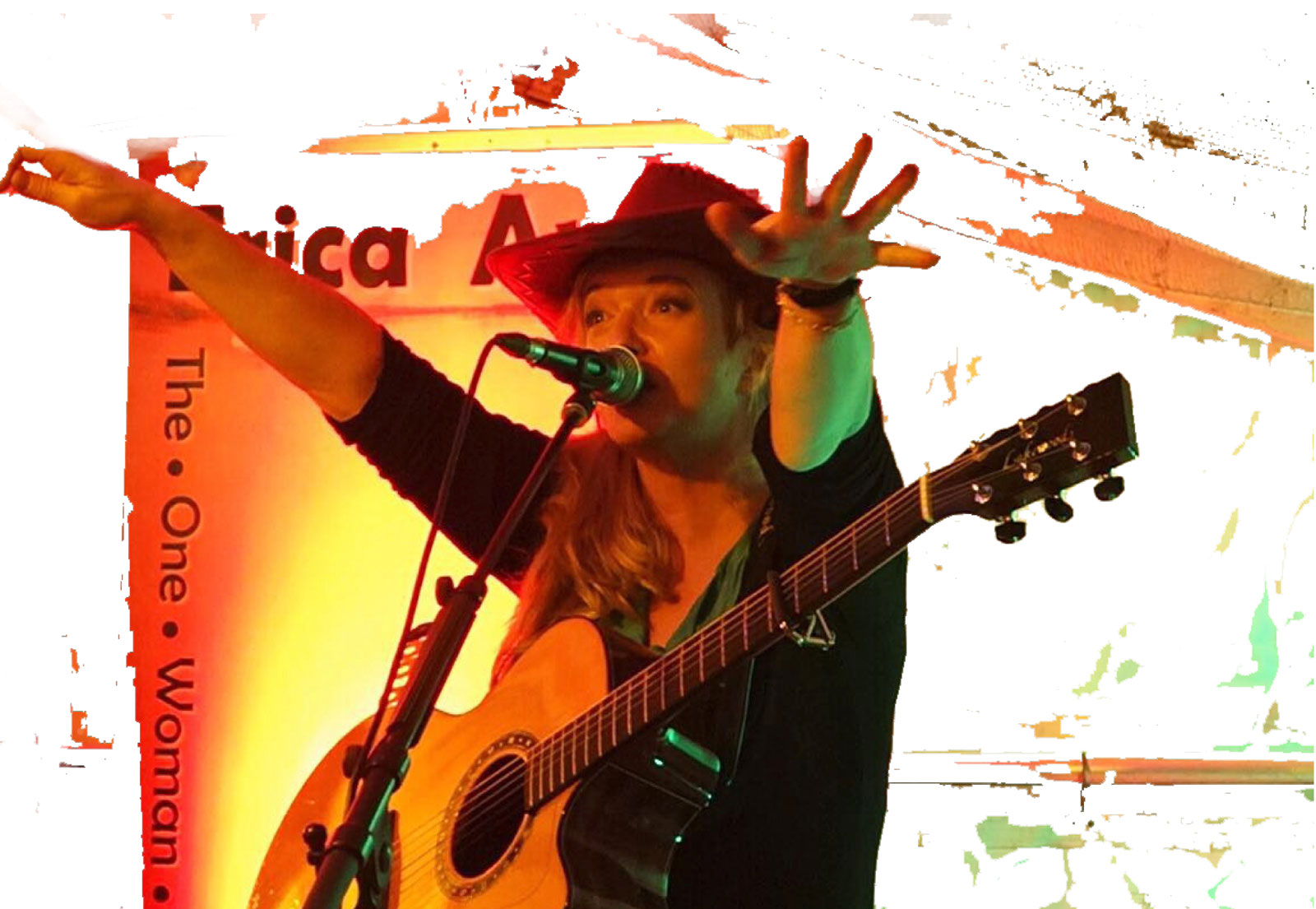 https://www.facebook.com/erica.arnold.397/posts/471722203188887
E R I C A A R N O L D
Live Musik
Eine Stimme - Eine Gitarre - Eine Frau

Garanatiert mitreissende, dem Publikum angepasste Musik - für jeden Anlass !
Pop - Rock - Oldies - Folk - Country - Blues - Partyhits
Schwiizer Hits - Schlager - Neue deutsche Welle - Volkstümlich
mit über 1200 Songs im Gepäck von AC/DC bis ZZ Top - querbeet durch die Welt
Tracy Chapman, Janis Joplin, Pink Floyd, Amy McDonald, CCR, Pink, Wanda Jackson, Andreas Gaballier, Spider Murphy Gang, Johnny Cash, Milow, Cranberries, Queen, Tanya Tucker, Mary Chapin-Carpenter, Juliane Werding, Barclay James Harvest, Uriah Heep, Status Quo, Supertramp, Bryan Adams, AC/DC, Dixie Chicks, Metallica, Beastie Boys, ZZ Top, Helene Fischer, Rolling Stones, Shania Twain, Elvis Presley, Mavericks, Nena, die Toten Hosen, Smokie, Bonnie Tyler, Mike Denver, Cliff Richards, Styx, Corrs, Everly Brothers, J J Cale, Cher, DÖF, Rednex, Truck-Stop, Judds, Beatles, Scorpions, Carlene Carter, Cat Stevens, Beach Boys, Nathan Carter, ABBA, Eddie Grant, Sailor, Willie Nelson, STS, Udo Jürgens, Gotthard, ELO, Boney M, John Mellencamp, Rod Stewart, James Brown, Joan Jett, Proclaimers, Linda Ronstadt, Roland Kaiser, Dolly Parton, Vaya Con Dios, Eric Clapton, Fool's Garden, Opus, Overtones, Drafi Deutscher, Shakin Stevens, Commitments, Chuck Berry, Texas Lightning, Michael Bolton, Bob Marley, Bruce Springsteen, Dave Edmunds, Doors, Stray Cats, Matchbox, Semino Rossi, Blues Brothers, Roxette, Peter Maffay, Racey, Tina Turner, Hubert Kah, Patsy Cline, Lynyrd Skynyrd, Paldauer, Cat Stevens, Bette Middler, Matthias Reim, Dorfrocker, Eva Cassidy, Gölä, Kunz, Village People, Troggs, Texas Tornados, Bon Jovi, Paldauer, Brian Setzer, Schürzenjäger, Big & Rich, Scott McKenzie, Middle of the road, Alpenrebellen, Doors, Amigos, Eruption, Marc Pircher, Michael Bolton, Polo Hofer, Patent Ochsner, Ruedi Rymann, Buddy Holly, Matchbox, Alan Jackson, Peter Schilling, DJ Ötzi, Chubby Checker, Cats, Ofenbach, Boss Hoss, Peter Wackel, Florian Ast, Tom Astor, Trauffer, Heimweh, Knickebocker, Joe Cocker, Nancy Sinatra, Billie Joe Spears, Loretta Lynn, Marius Müller-Westernhagen, Mash, Prince
u.v.m.

Auf Wunsch auch im Duo buchbar zusammen mit
Alois Renggli am Akkordeon / Keyboard
für noch mehr Country, Schlager, Volkstümlich, Oberkrainer, Schaukelsongs usw.
----- Hörproben anhören unter MUSIK / DEMOSONGS -----

A C H T U N G:
Immer wieder landen Mails in meinem Spam Ordner...!!!
Falls Buchungsanfragen nicht innerhalb einer Woche beantwortet werden
kontaktiert mich bitte umgehend unter 079 771 66 65
Am Besten ist es sowieso wenn ihr mich direkt anruft